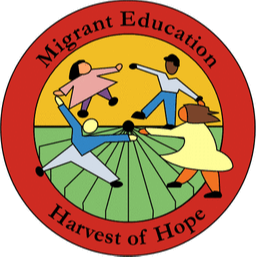 MIGRANT EDUCATION PROGRAM
The Migrant Education Program (MEP) is a federally funded program, authorized under the Elementary and Secondary Education Act of 1965 (ESEA), as amended by the Every Student Succeeds Act (ESSA). According to ESSA, the purpose of Migrant Education is to assist States in supporting educational programs and services to ensure migratory children receive full and appropriate opportunities to meet the same academic standards that all students are expected to meet.
Other supplementary services offered to MEP students include:
Medical/ Dental/Optical Services

Educational Support

Summer School Programs

After-School Programs

Educational Experiences
ELIGIBILITY REQUIREMENTS
A child is considered "migratory" if the parent or guardian is a migratory worker in the agricultural, dairy, lumber, or fishing industries and whose family has moved during the past three years. A "qualifying" move can range from moving from one residence to another or across school district boundaries due to economic necessity.
The eligibility period is three years from the date of the last move. Eligibility is established through an interview conducted by a Migrant Education recruiter who visits both home and employment locations where migrant workers are employed. The law states that migrant education services are a priority for those students who have made a qualifying move within the previous one-year period and who are failing, or are most at risk of failing to meet state academic standards, or who have dropped out of school.
2022-2023 PAC Meeting Dates
Below you will find the dates for the Migrant parent meetings for the 2022-2023 school year. Please mark your calendar and plan to attend. All meetings will be held at Heber School Room 118, and will begin at 5:30 p.m.
Meeting Dates
October 20th
November 17th
January 19th
February 16th
March 16th
May 11th
After school tutoring classes for Migrant students are held at both Dogwood and Heber School sites. After school will start in September and will be held from 3:00 p.m. to 4:30 p.m.
Please be sure your child takes advantage of this opportunity. Computer assisted instruction, homework support, and Accelerated Reader books are all available for Migrant students. Heber and Dogwood teachers provide the instruction and tutoring.
Program for 3-6 year old students at Heber School District. Students and their families will have the opportunity to work with teachers in Spanish & English language. Students will be provided with supplies, books, and other learning materials to use at home with their families. Dinner included.
Classes will be starting October. Sessions will be held at Heber School Room 118 from 5:00 p.m. to 7:00p.m.
Links